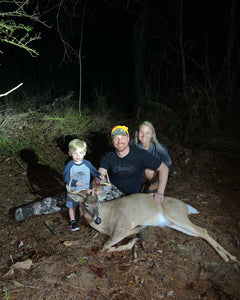 Hunting in Louisiana: Travis Harvested his First Home State Buck
Hunting in Louisiana is both Rewarding and Challenging
Hunting in Louisiana can be incredibly rewarding, but it doesn't come without its challenges. It's definitely a hunting ground that requires you to work for your success. 
Louisiana offers some of the most diverse hunting opportunities in the country, ranging from Louisiana hog hunting and turkey hunting to fishing and gator hunting. You can also enjoy whitetail deer hunting in Louisiana. 
It is important to remember that deer hunting season in Louisiana brings unique hunting challenges. The weather can be unpredictable, and the terrain can be difficult to navigate due to swamps and thick forests.
My First Successful
Deer Hunting in
Louisiana
From the time I was born until now, I have called Louisiana home. But, up until two years ago, I had never killed a whitetail deer in Louisiana. 
I grew up hunting in Mississippi. I shot my first deer when I was 9 and he was in front of a pack of dogs. Then I chased whitetail deer in Texas and now we have a lease in Missouri. 
After years of hunting in Texas and Missouri, I had heard stories about hunting in Louisiana that made me think twice about hunting there. So I avoided hunting in the state for years. 
But then 2020 rolled around and my niece wanted to go deer hunting in Louisiana. With newfound enthusiasm, I asked a neighbor if we could hunt from their deer stand and they agreed.
This was the first time in 29 years that I had Louisiana hunting tags.
We sat there that evening, hunting in Louisiana for the first time in nearly 30 years. And just before the end of the hunt, three does step out and I was able to harvest my first Louisiana whitetail deer. 
It was an unforgettable moment that reaffirmed my lifelong love of hunting and provided a new hunting experience for my niece.
Louisiana Hunting Season 2022
Fast forward to the 2022 season. My dad purchased a piece of property to build a venue on. He said he wasn't going to do anything with the back part of the 167-acre property. 
So here was my opportunity to set something up to get my first buck in Louisiana. I scouted, set up a few stands, and hunted hard. The movement was rough and I was second-guessing this Louisiana deer hunting. 
I had deer on camera and one decent eight-point. I knew he was the target. However midway through November, he disappeared.
My First Louisiana Buck
On the stormy morning of December 11th, it was a little warmer than I prefer to hunt in, but I knew the deer would be up and about. 
My father called and asked if I wanted to go hunting. So he, my niece, and  I loaded up and met at the farm.
She had a little ground blind we set up for her. My dad had a ladder stand that we had set up the year before that had a view of the majority of the property. I was headed to my little haven in the back.
Walking in on my access route, I noticed some tracks about thirty yards from my stand. I knew they were buck tracks and they were fresh. 
However, the wind wasn't really in my favor. After being sprayed with Scent Assassin Field Spray, it was time to put it to the test. I climbed up in my lock and patiently waited.
I kept hearing a crackling noise behind me. The woods behind the stand was thick and you couldn't see very far away from them. 
I heard the noise once again so I turned and looked, and 35 yards away was the buck I was looking for! He was heading right to where those fresh tracks were, downwind and undisturbed.
I put my scope on him, and he stepped into a small window and I dropped him in his tracks.  
On that day, all of my hard work, long sits, and the game plan paid off, and I harvested my first Louisiana buck
He's not a monster by no means but he has a terrific story that I love to tell.
Becoming a Seasoned Bow Hunter in Louisiana
Now, I do bow hunting in Louisiana, and I'm proud of it. Bow hunting in Louisiana can be one of the most rewarding experiences for me as a hunter.
I eat, breathe, and sleep bow hunting. Having a rifle in my hand felt like a sin. But I was there with my rifle because I had a goal, and it was to harvest a buck in Louisiana.
Hunting in Louisiana is not something to be taken lightly, but with the right attitude, knowledge, and persistence, it can bring its own rewards - both personally and professionally. 
If you want a hunting adventure that will leave you with lasting memories and a sense of accomplishment, then hunting in Louisiana is definitely an adventure worth considering.
Happy hunting in Louisiana!  
Travis Thornton
More Than Hunting Outdoors
---