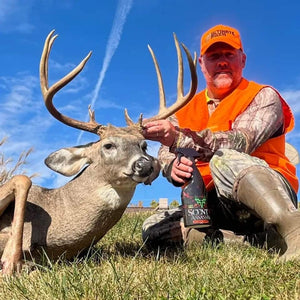 Real Hunting Stories: A Seasoned Hunter's Secrets to Success
Hunting Story #1 Moving Through The Woods Undetected
I began using Scent Assassin in the spring of 2022. To begin the preparation, I washed my hunting gear with hunting laundry detergent.
Before hunting, I always used Scent Assassin body wash and sprayed Scent Assassin Natural Earth field spray on my boots and clothing. 
When it was warm, I sprayed my clothing randomly, and if I was hunting in a blind, I sprayed that as well to keep odors at bay.
October 2, 2022- I've been so busy during the month of September that I only got out this evening. A doe and fawn approached me within 20 yards.
October 15, 2022- On the morning of the Kentucky early muzzleloader season, I had a small doe come up and actually lick my ladder stand. So you can imagine how excited I was!
 I was anxious to get back the next morning because the few times I'd hunted, deer were literally within feet of me. My scent protection strategies seem to be working!
Hunting Story #2 I Captured My Target Buck from My Trail Cam Pics 
October 16, 2022- This morning was picture-perfect and the weather finally cooled down overnight. I noticed a deer through the trees, which continued walking until it was clear for my sight. 
I saw it was a nice buck so I took the shot. He crashed into the barbwire fence and fell on the other side. 
I couldn't see him anymore but knew he was hit pretty well. The next 30 to 45 minutes were nerve-wracking. I could hear him struggling and falling down in the thick crunchy leaves. 
As I was waiting, another smaller 8-pointer walked in at about 20 yards. It ate a little and turned around to go back to his bedding.   
My buddy came to help track and drag the buck I shot. At first, we didn't find good blood until we got to the other side of the fence. 
It opened up and we could see his struggle in the leaves. He went downhill zigzagging for another 80 yards.  
The excitement became a reality once I put my eyes and hands on him because that's when I realized: he was my target buck from my trail cam pics.
Hunting Story #3 My Son Got His Very First Buck
Gun season arrived the second weekend in November, and it was on again. Sunday morning I sat on a field edge on the ground. After 9 am, I got up to move to my Redneck blind since I was getting uncomfortable on the sloped ground. 
As I walked up the hill, I ran off 3 deer. I was surprised to see them there because they were right on the path I had taken in and were very close to my truck. They usually come into that field from different locations, so they obviously had no idea I was there. 
It was a memorable Sunday afternoon. I took my 11-year-old son along, and he got his very first buck. It was the same buck I had seen in October. My son was so ecstatic that I had to contain him from jumping off the 10-foot elevated blind!
I understand how he feels. It felt amazing to finally be able to hunt and catch a deer. I've been hunting for years and it's always exciting when you can successfully bring one down.
I saw a few more deer the next morning and was able to get a nice doe. November 2022 was a fantastic month.
Hunting Story #3 I Harvested Multiple Deer
I had a quota hunt the first weekend in December at a state park, where I was able to harvest three more deer. All three were extremely close, but they weren't spooked by my presence. 
They actually moved around and got closer to me! On that hunt, I was the only one to get multiple deer.
My Secrets to Each Successful Hunting Stories
Yes, I had a successful season. But it all started with scouting, planning, and preparing myself. 
I begin by scouting the terrain for potential bedding, feeding, and travel areas. These are the spots where deer like to hang out and pass through on a regular basis.
I also look for signs of deer such as tracks, scrapes, rubs, droppings, and any other indications that deer are in the area. Once these areas have been identified, I begin to form a scouting plan.
I also use hunting trail cameras to scout for deer. They're simple to use and provide me with a lot of useful data. This helps me identify patterns in the deer's movements and determine where to set up my stand for a higher chance of success.
Lastly, I always make sure to boost my scent protection strategies with Scent Assassin Products. I even sprayed its field spray on my trail camera and blinds when setting up. 
Did I ever get busted by a deer? Yep, absolutely, the one time I didn't shower using Scent Assassin.  
I'm a believer that Scent Assassin works and really appreciate the products and customer service I've received.
Cheers to more successful hunting stories!  
 Rodney - Seasoned Hunter
---